Regular price
$29.00 USD
Sale price
$21.00 USD
Unit price
per
Sale
Sold out
TTfone TT190 - Refurbished fits perfectly in the budget category of our big button mobile phone range with USB Cable Giff Gaff Pay as you Go Prepaid Sim Included
Warehouse Deals - returned open box phones from TTfone - Grab a bargain All phones are fully tested and are working Phones may come with small cosmetic imperfections
PLEASE NOTE: TT190 takes a standard size sim card and is unlocked so you can use any sim card/network apart from THREE (3), ID and SMARTY

PHONE DOES NOT COME WITH A MAINS CHARGER - IT IS SOLD SEPARATELY
Full Description

Simple Keypad - The TT190 has a large separated keypad for easier typing. With talking keys and distinct red and green keys for making and ending calls.

Loud Speaker - Extra loud speaker for calls and speakerphone function for even louder volume.

Emergency Assistance Button / SOS Alarm – Feel the security of having an emergency button that will call and text friends and loved ones with the touch of one button.

Large Font - The TT190 has a user friendly menu which is laid out in a really easy way with large fonts and has clear icons which makes it simple to use for anyone.

Handy Flashlight – Separate, dedicated switch for using the bright torch on the top of the phone, never fumble to find your keys in the dark again.

Easy charging - The TT190 comes with a USB charging cable in the box which can be used in any PC or Laptop. You can use any existing USB charger plug that you already have at home just simply plug in the included USB cable. You can also purchase separately a USB mains plug charger if you wish to.

The TTfone TT190 is our new Emergency assistance mobile phone.

Looking for an easy to use, basic and simple mobile phone for an elderly relative or do you need one for yourself? Here at TTfone we design mobile phones that go back to basics, these have easy and simple menus, extra loud speakers with clear quality sound. Large separated physical buttons instead of hard to use touch screens. Bright clear displays with high visual contrast and large fonts.

The new TTfone TT190 fits perfectly in the budget category of our mobile phone range. It comes will all the above features as well as an emergency assistance button that will call and text up to five pre-set phone numbers with the touch of one button.

Feel secure that friends and family are just one button press away in an emergency. Battery life on the TT190 is huge, with a 600mah removable battery and the simple and basic nature of the software the standby time on this phone can last 5 whole days before you need to charge the phone again.

The TT190 also comes with Bluetooth, a loud speakerphone and an integrated torch function.

The TTfone TT190 is unlocked, sim free and will work with all 2G networks including: Vodafone O2 EE Virgin Giff Gaff Tesco ASDA, Asda Mobile, BT Mobile, EE, giffgaff, O2, Plusnet Mobile, Sky Mobile, Tesco Mobile, Unlocked, Virgin Mobile, Vodafone, VOXI – NOTE this phone will not work on 3G only networks like Three, Smarty and ID Mobile

In the box - GSM Handset, Battery, User manual, USB cable

Ring Volume - 105.6 decibels

Call Volume - 80.4 decibels

Speakerphone - 91.3 decibels
Specifications

Overview  

Colour - Black

Style - Candy Bar

Rear Camera - No

Front Camera - No

Dock Charger - No

Bluetooth - Yes

Dual SIM - No

Lanyard Compatible - No

Touch Screen - No

Other Feature

Talking Buttons - Yes

Call Volume - 80.4 decibels

Speakerphone Volume - 91.3 decibels

Charger Style - 91.3 decibels

Speed Dial Keys - Yes

Flashlight - Yes

Alarm Clock - Yes

Calculator - Yes

FM Radio - Yes

MP3 Support - Yes

Micro SD Card Slot - Yes

Keypad Backlight - Yes

Ring Volume -105.6 decibels

Predictive Text - No

Operating System - TTfone

App Store - No

Whatsapp - No

Facebook - No

Email - No

Specifications

SAR Rating - 1.867 w/kg

SIM Card Size - Standard

Number of Ringtones - 5

Vibration - Yes

Languages - English French Spanish German Italian Arabic Polish

Band - GSM 850/900/1800/1900

Emergency Call

SOS Button - Yes

SOS Button Type - Push

Preset for SOS Button - 5

SOS SMS - Yes

Display

Type - Colour TFT

Screen Backlight - Yes

Screen Size - 1.77 inches

Screen Distinction - 128x160 pixels

Contacts, SMS, Memory

Contacts in the Phone Memory - 300 contacts

SMS Memory - 50

Memory for Sent SMS - Yes

Internal Memory - 32 MB (internal) up to 16GB (external; SD card not included)

Battery

Battery Life in Stand by Mode (up to) -120 hours

Talk Time(up to) - 80 minutes

Type - Li Ion TTfone BL5C battery 800 mah
Shipping & Returns

Same Day Despatch if ordered before 3pm - Express options available at checkout - Easy Returns, full refund if returned within 28 days.
Dimensions

Height – 11.5 cm

Width – 5.5 cm

Depth – 1.3 cm

Weight (with Battery) – 73.5 g
Share
View full details
Affordable

The TTfone TT190 is not only one of our newest phone but is also our cheapest emergency assistance mobile phone. It is simple to use and is a very handy pocket size. TT190 is the perfect phone for those who need a basic mobile phone with Bluetooth, Emergency Assistance button, large buttons and loud volume.

Unique Design with Ease of Use in Mind

Looking for an easy to use, basic and simple mobile phone for an elderly relative or do you need one for yourself? Large separated physical buttons instead of hard to use touch screens. Bright clear displays with high visual contrast and large fonts.

Large Separated Buttons

The TT190 has a large separated keypad for easier typing. With talking keys and distinct red and green keys for making and ending calls. The TT190 has a speed dial facility. The speed dial key lets you contact someone on a press of a key. This completely eliminates the need of remembering numbers of relatives and friends.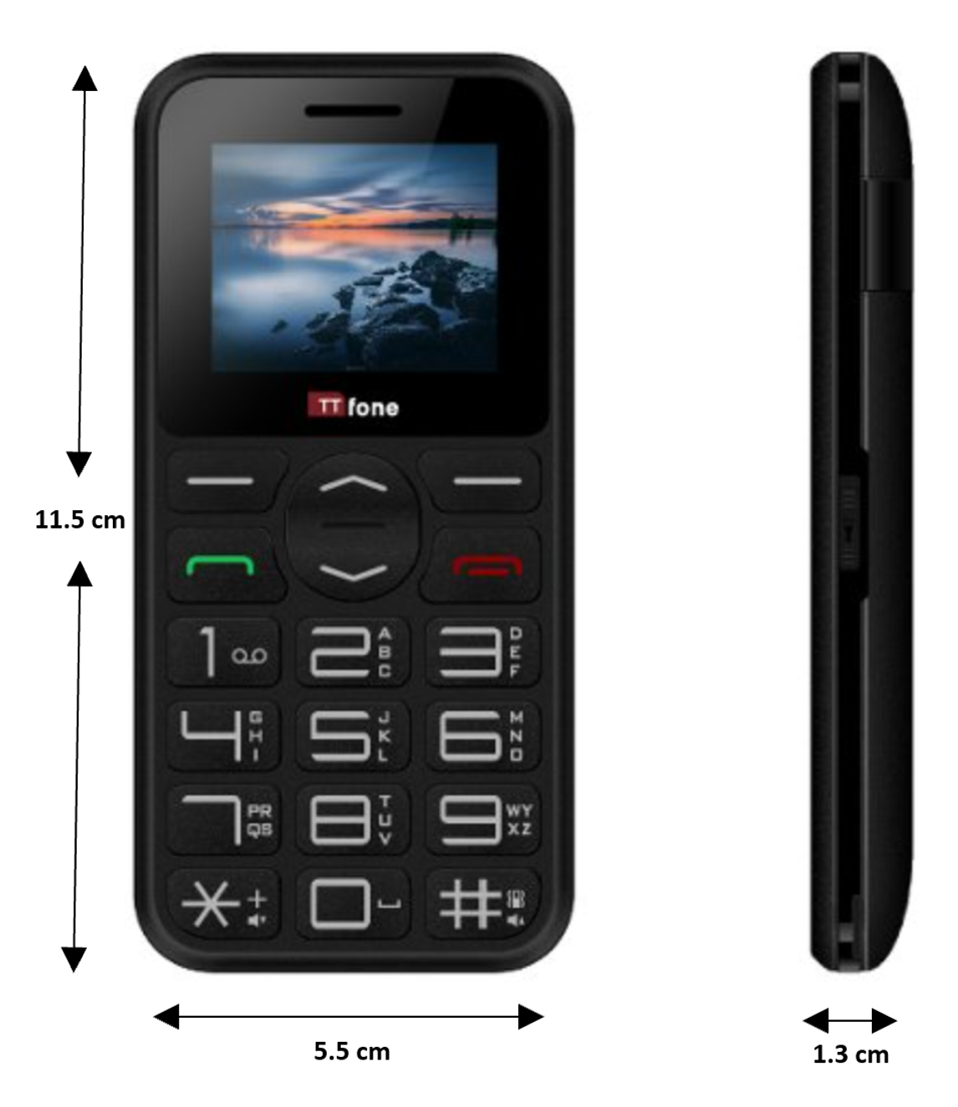 TT190 Dimension
Height: 11.5 cm
Width: 5.5 cm
Depth: 1.3 cm
Weight (with Battery): 73.5 g
Emergency Assistance Button
The TTfone TT190 has also our key feature: the designated Emergency Assistance Button, making independent seniors confident and comfortable to do their everyday activities without making their loved ones worry about their well-being. The single click SOS option makes it easier for contacting in case of emergency, thus making the emergency calling in the best manner for their family or friends.
Loud Volume

A fantastic mobile for the hard of hearing including vibration call alerts, super-loud ringtones & outstanding call clarity. Enjoy clearer conversations thanks to good sound quality and loud volume.

Handy Flashlight

Separate, dedicated switch for using the bright torch on the top of the phone, never fumble to find your keys in the dark again.

Handy phone

TT190 is another simple to use and very handy pocket-sized phone and the perfect phone for those who need a basic mobile phone without all the complications of a smartphone.

Easy charging

The TT190 comes with a USB charging cable in the box which can be used on any PC or Laptop. You can use any existing USB charger plug that you already have at home just simply plug in the included USB cable. Battery life on the TT190 is huge, with a 600mah removable battery and the simple and basic nature of the software the standby time on this phone can last 5 whole days before you need to charge the phone again.
Free Shipping

Free shipping option available - Express options - Same day shipping if ordered before 2pm.

Call, Email and Chat Support

Support available on the phone 0330 333 0819 - email info@ttfone.com or Chat by clicking the Chat withus box in the bottom corner of this page.